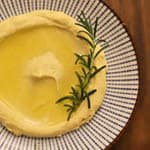 Mum's Hummus
This hummus can be kept in the fridge for about 3-4 days. It goes well with veggies and all kinds of white bread like pita or arabic flatbread.
Total Time
1
hour
31
minutes
200g

/ 1 cup

Chickpeas

(dried)

1

tsp

Baking Powder

(optional)

1/2

Lemon

(or fresh lemon juice)

salt

(to taste)

60g

/ 1/4 cup

tahina

1/2

clove

garlic
For Serving
Olive Oil

ground paprika or cumin

(optional)

fresh herbs

(optional)
Prepare the day before
Put the chickpeas in a big pot and fill it with water until all chickpeas are covered. Fill in some more water and let the chickpeas soak overnight or at least for 6 hours.
Cook the chickpeas
Drain the chickpeas and fill the pot with lots of fresh water and cook the chickpeas on medium heat for about 1 1/2 to 2 hours, depending on your chosen soaking time. You can add some baking powder to the water to speed up the cooking process but this is totally optional. Cook them longer than you would cook them for other recipes and don't be afraid to cook them for too long. The longer they cook the softer the hummus will be.

When the chickpeas are done, drain them and let them cool for 5-10 minutes.
Prepare the hummus
Put the chickpeas with the juice of half a lemon and some salt into a blender. Add 1/2 cup of water and blend it until everything is creamy. If the blender can't properly mix the chickpeas or the hummus is not creamy enough add more water, a little at a time.

Add the tahini and a little bit of the garlic and keep blending. Taste your hummus and add a little more garlic until the taste is balanced. Don't add everything at once or it may be too much. If your mixer isn't able to blend it add a little more water. Be careful not to overdo it with the water or your hummus will become runny. The result should be incredibly creamy with no pieces of chickpeas should be left in the hummus.
Serve
Take a spoon and spread the hummus on a small plate and serve it with a drizzle of olive oil. You can garnish the hummus with ground paprika, cumin or parsley. Serve with white bread.
f you can get your hands on it, I highly recommend Al Wadi Tahina from Lebanon.
Use high-quality olive oil for this recipe, it will make a difference in the final result.
With canned chickpeas, you can skip the soaking and cooking process and still get a decent hummus, but it won't taste the same. If you want to use canned chickpeas anyway make sure to rinse them really well before mixing. The water in the cans gives the hummus a weird flavour.
Lebanese hummus has a pretty high chickpea to tahini ratio. You can use 1/3 cup or even more tahini to achieve a stronger tahini flavour, typical for Israeli hummus.
You can cook dried chickpeas without soaking them first, just make sure to cook them for 1-2 hours longer.