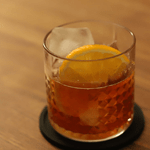 Old Fashioned
This recipe makes an Old Fashioned cocktail. It's an adapted recipe based on the official recipe from the International Bartender Association.
Take a a Whiskey glass or at least short wide glass

Fill it with two teaspoons of brown sugar.

Saturate the sugar with 4 dashes of Angostura bitters.

Fill in 1 cl of sparkling mineral water and stir briefly.

Fill the glass with ice cubes. Start stirring and fill in the Whiskey. Keep stirring for a few moments.

Serve with a slice of a fresh orange.
It doesn't necessarily have to be a Bourbon Whiskey
Personal recommendations according to personal experience (not necessarily in that preference order)

Wild Turkey 81 (Bourbon)
Johnny Walker Rum Cask Finished (Scotch)
Canadian Club (Whiskey)

Adjust the amount of sugar if too sweet. two teaspoons should be fine for 6 cl