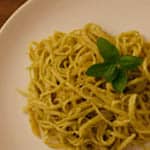 Green Pesto with Cashews
This pesto keeps well in the fridge for about 1-2 weeks.
Put the basil leaves with the cashew nuts into the blender and blend on high speed until they're cut to little pieces.

Grate the Parmigiano-Reggiano and Pecorino Romano.

Add 1/2 of the garlic clove, the Parmigiano-Reggiano and the Pecorino Romano into the blender and mix until everything is combined.

Keep the blender running and slowly drizzle the olive oil into the mixture until the pesto has a creamy consistency. Add a good amount of salt and black pepper and blend again.

Taste your pesto. At this point you can add more basil, cashews, cheese and garlic according to your taste. The pesto should have a well-balanced taste. Drizzle in more olive oil if the pesto becomes too dry.
This pesto was made with cashews but it's just as fine when using pine nuts.
Use only high-quality olive oil for this recipe, you'll taste the difference. Bad olive oil equals bad pesto.