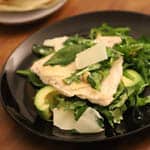 Coconut Cashew Chicken Salad
This recipe makes a Coconut Cashew Chicken Salad with Rucola & Baby Spinach, Cherry tomatoes and Avocado, a Coconut oil/Cashew nut dressing topped with fried Chicken fillet & thin slices of fresh Pecorino Cheese.
Salad
75

grams

Rucola salad

75

grams

Baby Spinach

1

piece

Hass Avocado

10

pieces

Cherry tomatoes
Dressing
4

tbsp

Coconut oil

30

grams

Cashew nuts unsalted

4

dashes

Pomegrenade vinegar

Optional

2

tsp

Brown sugar
Meat
450

grams

Chicken breast escalope

2

tbsp

Peanut oil
Put the stove on maximum heat. Pour the coconut oil into a frying pan and put the pan on the stove. Lower the heat when the oil starts popping or gets very liquid.

Add the Cashew nuts and roast them in the hot oil for 5 minutes. Add salt, pepper, and the sugar. Stir it well. Turn down the heat on lowest level and keep the oil warm. Don't let the coconut oil solidify.

Heat up the peanut oil or any high quality butter of your choice in another frying pan. As soon as the oil is hot, add the Chicken breast fillets. Turn down and keep the heat on medium level. Add some salt and pepper.

Don't let the Chicken breast overcook. Keep turning it upside down until both sides are cooked. Don't worry about the layers inside. Take the pan of the heat and leave the fillets inside the pan. The hot pan will do the rest without overcooking them and at the same time keep the fillets warm until you serve them on the plate.

If the Rucola and the Spinach were not prewashed (see packaging), wash them and put them in a large bowl. Add the warm coconut oil with the cashew nuts and mix well until the all leaves are greasy. Optional: Add some Pomegrenade vinegar (or a similar sweet/smooth Vinegar), but keep in mind: Just a few dashes, not more!

Cut the Avocado into 8 to 10 pieces and the cherry tomatos into 2 pieces each. Put half of them on a plate.

Put each half of the salad on the plate.

Take each fillet and put one on each plate directly as a topping on the salad.

Use a grater to cut the Pecorino into thin slices. Garnish both plates with it.

Serve with bread.
Make sure to take out the salad, the tomatoes and the Avocado out of the fridge at least 30 minutes before serving.
Don't cut the Avocado 10 minutes before serving to avoid it getting brown spots
Try to get two equally big Chicken breast fillets with approximately the same thickness, so they take the same time to fry.
Optional: Add some Pomegrenade vinegar (or a similar sweet/smooth Vinegar), but keep in mind: Just a few dashes, not more!