Linguine all'Amatriciana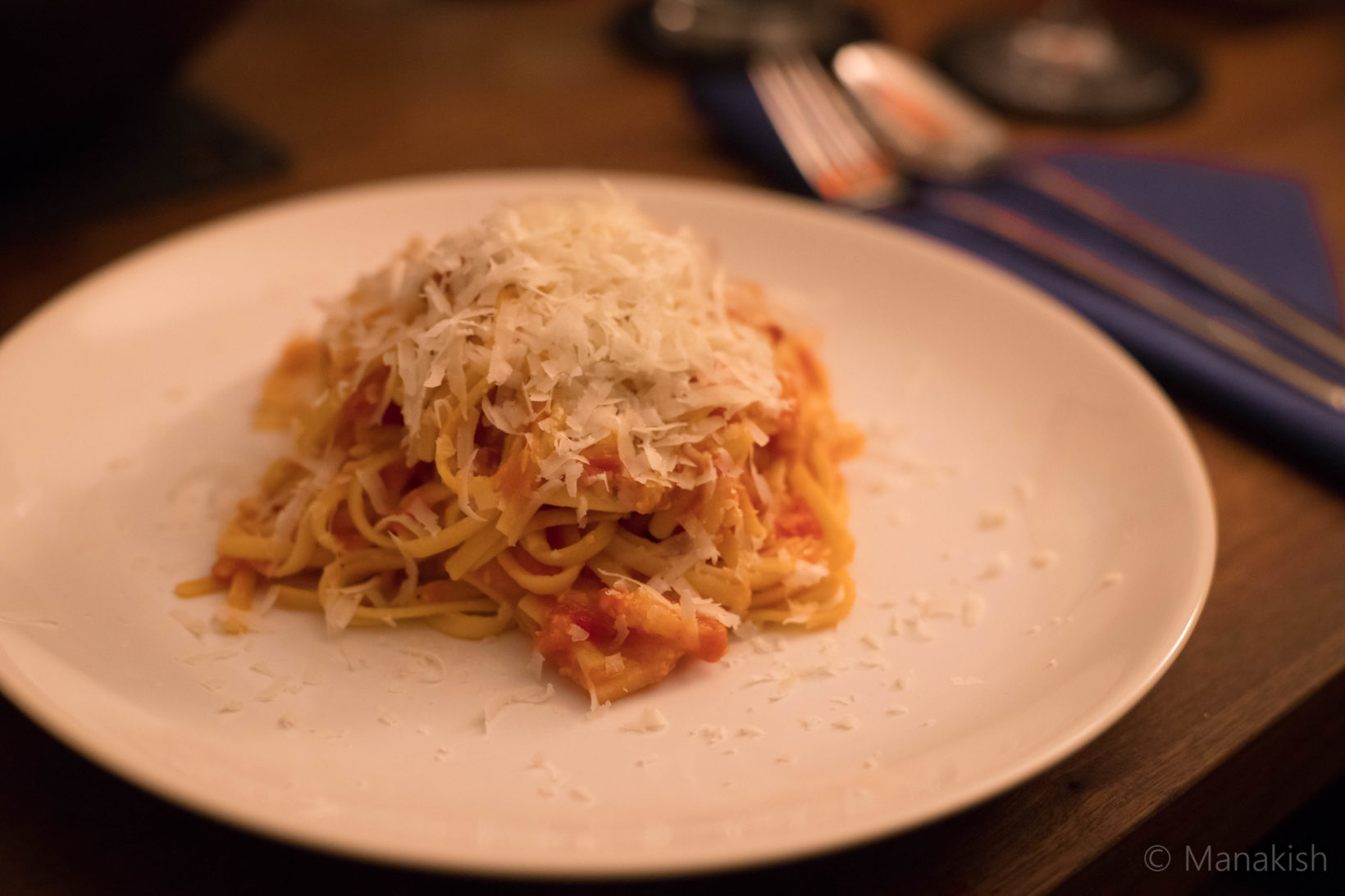 As a tourist in Rome, I did what most people do. I visited the Forum Romanum, waited hours in Mediterranean sunlight to get into the Vatican Museums and I ate tons of pizza. It's impossible to reproduce an authentic Roman pizza at home, so afraid to miss out on it I never thought to give Roman pasta dishes a try. And I didn't even know what Pasta all'Amatriciana is.
Last year my sister moved to Rome and I got the chance to visit her a few times. Of course, we were having a lot of pizza too but she and her boyfriend made me try some roman pasta recipes among other things. We had Pasta Carbonara, Cacio e Pepe and of course my sister's favorite: Pasta all'Amatriciana. This is a Roman classic that every restaurant in Rome serves, especially for lunch. I usually make it at home for dinner as it can be easily made in half an hour with what you already have at home. If you're like me and always have some Italian bacon and cheese in your fridge, that is.
You will have a hard time to reproduce this pasta at home exactly the way Romans cook it because it's very particular on the ingredients. Pasta all'Amatriciana has only a few ingredients and they need to be of the best quality. Traditionally, all'Amatriciana is made with Guanciale, a very fatty bacon that's hard to get outside of Italy. I know the pasta is best made with the real deal but in Vienna, Austria it's almost impossible to get. I buy my ingredients in ordinary supermarkets, so for reasons of practicality, I usually substitute Guanciale with Pancetta.
Another important ingredient is Pecorino Romano, an Italian hard cheese made from sheep's milk. If you can't get your hands on it you can substitute it with Parmigiano but I recommend using Pecorino if possible. Traditionally this sauce is served with Bucatini but any long and thin pasta will do. I use Linguine in the pictures but Spaghetti are nice too.

Linguine all'Amatriciana
This recipe makes a main course for four people. As a primary course, use half the proportions per person. Use gluten-free pasta to make this recipe gluten-free.
Ingredients
1

tsp

Butter

1

tsp

Olive Oil

1/2

Red Onion

230g

or 1 + 1/3 cup

Guanciale or Pancetta

some

Chili

170ml

or 3/4 cup

White Wine

2

cans

Canned Tomatoes

500g

or 7 cups

Linguine / Bucatini / Spaghetti

60g

or 2/3 cup

Pecorino Romano
Instructions
All ingredients except for the pasta.

Prepare your ingredients: Cut the onion and the Pancetta into little cubes. Mash the canned tomatoes in a bowl with your hands. Don't be afraid of getting your hands dirty, it's fun.

Heat the olive oil and butter in a huge pan and fry the onion for 2-3 minutes. Add the and fry on medium heat until they both turn translucent and the Pancetta becomes a little crispy. Add enough chili to make it a little spicy but not too hot.

In the meantime, heat a big pot of salted water for the pasta.

Deglaze the onions and Pancetta with white wine and add the mashed tomatoes. Stir the sauce, season it with some salt and pepper and cook it for about 10 minutes.

As soon as the water cooks, add the pasta and let it cook until done. The pasta and the sauce will be ready at about the same time. While sauce and pasta are cooking, grate the pecorino romano.

When the pasta is done, reserve some of the cooking water in a cup. Drain the pasta and turn off the heat for both pans. Add the pasta and a few tablespoons of the cooking water to the sauce and give it a good stir to cover all pasta with sauce.

Add the grated Pecorino to the pasta and stir again. Serve the pasta with some extra Pecorino on top.
Recipe Notes
Traditionally, the pasta is served with Guanciale, an Italian cured bacon with a strong flavor. If you can get your hands on some of it, take it and enjoy. But this bacon is hard to get outside of Italy, so I recommend substituting it with pancetta. Its flavor is not as strong but it will give you a delicious Amatriciana anyway. If you can't find pancetta either, best use a fatty bacon that's not smoked. The bacon used in the pictures is Pancetta.
Italians love their Amatriciana with Bucatini but you can use any long and thin pasta for this recipe. I used a pack of gluten-free Linguine in the pictures, which makes it a delicious pasta recipe for all your gluten-free friends.
I used mashed chili for this recipe but you can use fresh or dried chilis as well. The amount of chili you should use depends highly on the kind of chili used. Use enough to make it a little spicy but beware not to cover the other flavors in the sauce.
I recommend using canned San Marzano Tomatoes because of their delicate flavor. If the tomatoes are a little sour or bland you can add a teaspoon of honey to the sauce.
---
---