Green Pesto with Cashews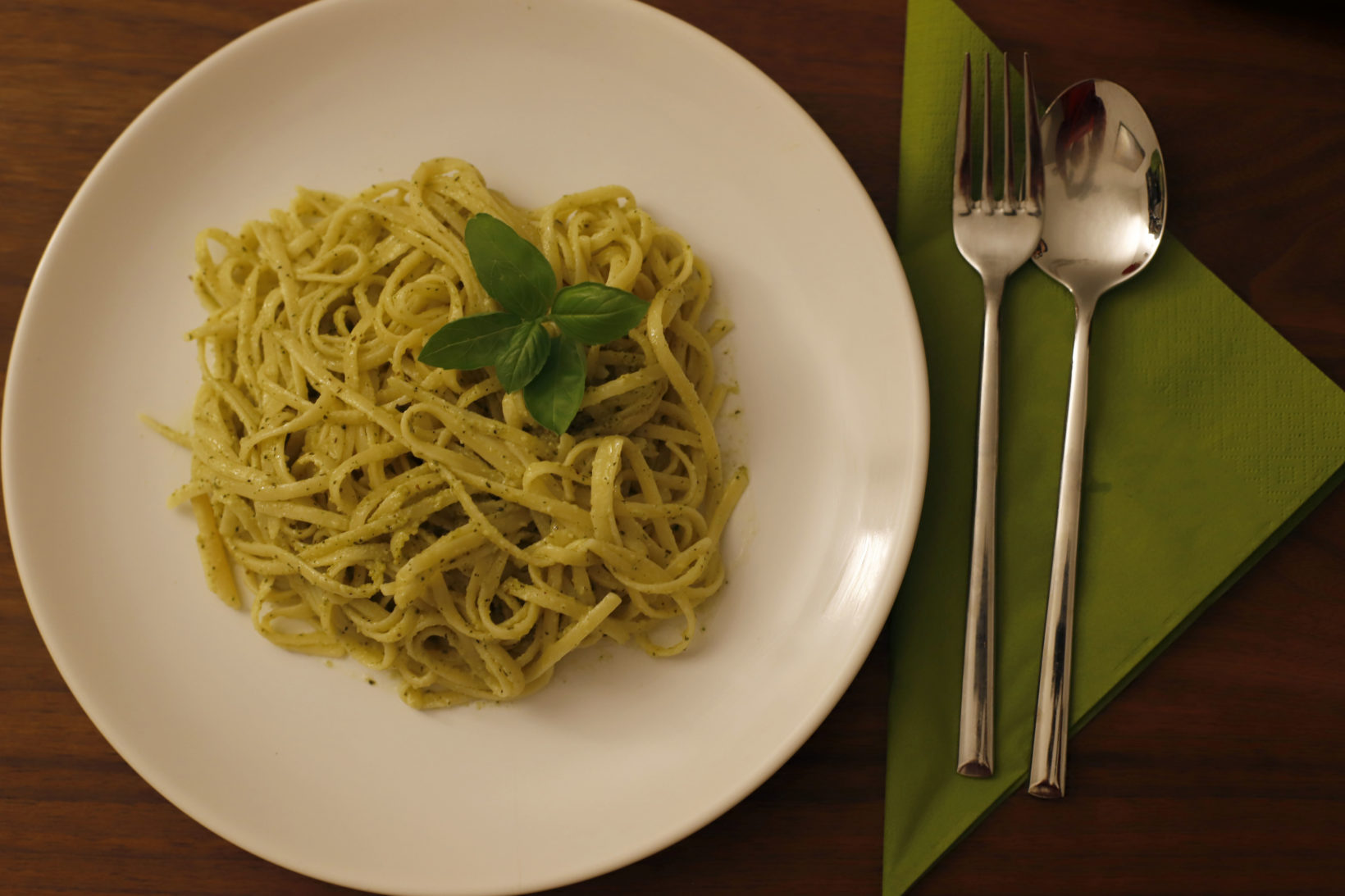 When we were on holiday this summer, I asked three of my dearest friends to take care of the plants we have at home. Most of them are non-digestible but a few of them are. The most sensitive ones are our basil plants. We have three of them and if you don't water them well during those > 30 degrees summer days they do look sad very quickly. They recover as quickly when you water them soon enough, but if not, those fragile green little friends are dead before you know it. Knowing too well that it's a bit much to ask from them, I told my friends to eat the basil. I'd be happy if they end up on a plate. Any plate.
We've been gone for weeks and while enjoying the Balinese sun I didn't give it much thought but to my pleasant surprise, everything looked alive and well when we came back home. Thanks again, you know who you are.
One of my favourite things to make use of tons of basil (next to the wonderful combination of tomatoes, basil and mozzarella) is green pesto. It's straightforward to make, doesn't require any kind of cooking or baking and keeps well in the fridge for at least 1-2 weeks. The perfect dinner when you come home late from work and have nothing else to eat at home. In moments like this, a glass of homemade pesto in the fridge is your friend.
You can go all creative with pesto and make it with pine nuts or walnuts instead of cashews. There is also red pesto that combines classic green pesto with sun-dried tomatoes, but this is a recipe for another time. Today, I show you how to make great green pesto so you'll never have to eat the supermarket version ever again.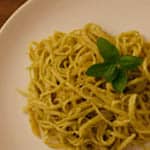 Green Pesto with Cashews
This pesto keeps well in the fridge for about 1-2 weeks.
Ingredients
1

cup

Basil Leaves

70g

/ 2/3 cup

Cashew Nuts

(raw, not salted or roasted)

30g

/ 1/4 cup

Parmigiano-Reggiano

30g

/ 1/4 cup

Pecorino Romano

1/2 - 1

Garlic Clove

120ml

/ 1 cup

Olive Oil

salt

Black Pepper
Instructions
Put the basil leaves with the cashew nuts into the blender and blend on high speed until they're cut to little pieces.

Grate the Parmigiano-Reggiano and Pecorino Romano.

Add 1/2 of the garlic clove, the Parmigiano-Reggiano and the Pecorino Romano into the blender and mix until everything is combined.

Keep the blender running and slowly drizzle the olive oil into the mixture until the pesto has a creamy consistency. Add a good amount of salt and black pepper and blend again.

Taste your pesto. At this point you can add more basil, cashews, cheese and garlic according to your taste. The pesto should have a well-balanced taste. Drizzle in more olive oil if the pesto becomes too dry.
Recipe Notes
This pesto was made with cashews but it's just as fine when using pine nuts.
Use only high-quality olive oil for this recipe, you'll taste the difference. Bad olive oil equals bad pesto.
---
---