Fluffy Scrambled Eggs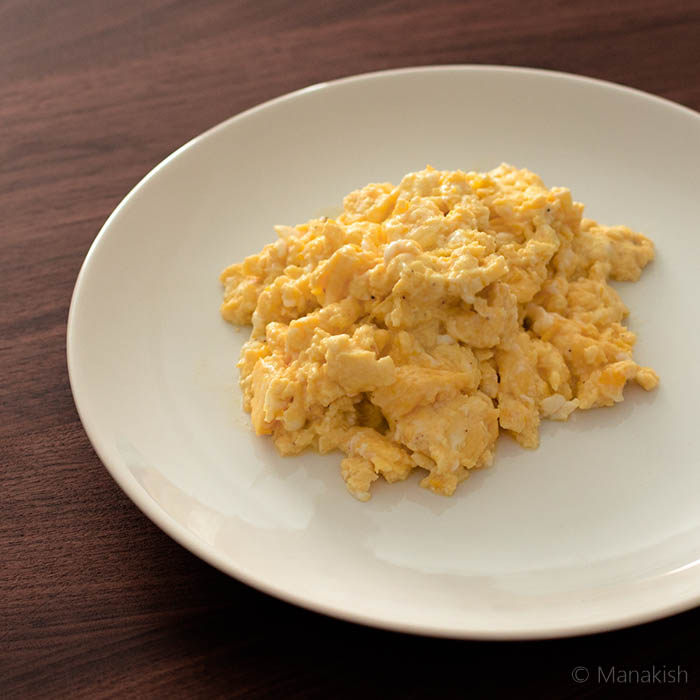 If you've ever been to a luxury hotel or at a more sophisticated breakfast buffet, it's very unlikely to miss out on scrambled eggs – fluffy, juicy and fresh. I used to wonder every time "how do they manage to do them like that?" and forget about that thought as soon as I get home or back from my travels.
In my opinion, eggs are so versatile and tasty, I could eat them all time – and I do. Lately, we've been craving for some eggs in the evening hours, but somehow fried or soft/hard-boiled eggs weren't what we really wanted – and I usually do not manage to make Scrambled Eggs without frying all the moisture and taste out of them – so I tried a different approach.
It might sound ridiculous to many people out there, but Scrambled Eggs are not easy as their name sounds – at least not as long as you haven't tried this. And if you are not fond of Fried or Boiled Eggs, this is surely the one to get you into the secret society of egg lovers.
Please see my personal recommendations regarding butter & oil in the recipe as well as a few tips your way to the kitchen – in case this post made you start a new relationship with eggs.
Happy Cooking!
Fluffy Scrambled Eggs
This recipe makes a dish of scrambled eggs with a cheesy taste for about 2 people. I use a frying pan with a diameter of about 28 cm / 11 inches. If you are cooking only 3 eggs or less, you can use a smaller frying pan.
Ingredients
6

Egg

1

Tbsp

Olive Oil or Butter

(high quality)

3

Pinches

sea salt

3

Pinchs

Black Pepper

1

Tbsp

Fresh Mascarpone

2

Tbsp

Parmigiano-Reggiano or Pecorino Romano

(optional)
Instructions
Turn on the heat, pour in a tablespoon of butter or Olive oil. You don't need to wait for the fat to heat up.

Start breaking each egg and pour them directly in to the pan.

As soon as all eggs are in the pan, add a tablespoon of mascarpone or cream (depending on whether you like it more or less cheesy), lower the heat to medium and start stirring the yolk and white together.

Keep stirring until the eggs start getting solid. As soon as they are nearly done and are getting very hot, take the pan off the heat. The remaining heat will do the rest, but still keep them juicy & tasty and avoid them to dry out.

Whenever you notice part of the eggs solidifying, lower the heat and stir the stuck fluid off the pan's surface. In case the eggs do not solidify at all, increase the heat. It's very important to keep stirring at all times and to take them off the heat at the right time. Try it a couple of times until you get the feeling for it.
Recipe Notes
I strongly recommend High-Quality Olive Oil like Terra Creta or Kerrygold Pure Irish Butter.
Preferably use sea-salt / kosher salt for this recipe, it works better with eggs than table salt.
Pepper tastes best when it's freshly crushed, I recommend using a pepper mill.
Optional but recommended: Season the finished eggs with Italian hard cheese like Parmigiano-Reggiano or Pecorino Romano.
---
---