Coconut Cashew Chicken Salad

First of all, I am used, obviously due to my childhood, to Lebanese salads, which solely rely on lemon and the quality of olive oil and vegetables being used. Fattoush* or Tabbouleh** are the most famous and two main salads in enjoyed in Lebanon and are gaining more and more popularity in intercontinental cuisine and food blogs all over the world. For obvious reasons, I won't miss out on giving you my insight on these two main pillars of Lebanese cuisine salads. Stay tuned.
Still, I am not so fond of too much sourness in any thing I eat, especially not salad or meat- drinks only! I like my salads smooth, straight and oily. Of course the following approach, is not similar to a Lebanese salad, but I respect the way of getting the most taste out of the main ingredients without using too many herbs and additional sauces and vinegar.
One of the main issues when it comes to trying out new ideas for salads or even ordering any at restaurants- even the good ones – is the disproportionate use of vinegar. There's too much fat (not oil!) and different herbs/garlic in most recipes and the vegetables'/salad leaves' are served way too cold. Never serve greens and vegetables below room temperature.

A nice trick to enhance the taste of any salad is heating up the oil, which you would like to use as a dressing and even roast nuts in it. If you insist on garlic in your salad, you will love it, when the garlic's roasted slightly in the same oil beforehand. Raw garlic is harder to digest and can be a very dominant taste in your dressing, spoiling the whole thing. By doing that, you solely rely on the fine taste of the quality oil and the nuts you are using. There are no herbs or vinegar needed and you get to enjoy the main ingredients: the salad, the tomatoes or anything else you are using as a topping.
This opens up new opportunities for your personal salad creations. You have more focus on the vegetables' and salad leaves' taste and you don't spend the main preparation time on mixing an overloaded dressing with the sole purpose of making the salad taste like a fatty spread. Many readers might consider this blasphemy, but I indeed do think this applies to nearly every Salad recipe I've seen so far. Particularly Cesar Salad- overrated and overloaded.
No, Cesar salads and I don't shake hands – not even on fine occasions.
After I found out, what was really bothering me with salads, I came up with my own creation, a Coconut Cashew Chicken Salad. A type of slim (not diet!) salad with roasted Coconut oil and Cashews and no overuse of so many ingredients like mayonnaise, mustard, anchovies or eggs. I fry the Cashews in the oil and use the salted/peppered and slightly sweetened oil and nuts as a dressing for the salad. I garnish the salad with tomatoes, fine Pecorino cheese (no, that's not Parmesan), a fine Italian cheese made from Sheep's milk (and also one of the main ingredients of Authentic Carbonara) as well as thin roasted Chicken breast fillet.

Simply put, keep the dressing oily, but simple, serve at warm temperature on room temperature greens & vegetables and top with any meat/fish/ham of your choice. Make sure the combination fits- sesame oil doesn't go well with Italian prosciutto- trust me, I was there. The coconut oil and the nuts, especially when heated, provide a great combination of sweetish and nutty taste which makes even salad-skeptics choose Salad over a fine meal of Pasta or rich meat.

As with all things in life, especially eating & food, it's a matter of your personal taste. Keep an open mind and try it out. You won't be disappointed to slow down and be a minimalist with ingredients and herbs.
Feel free to comment/send your opinions.
Happy cooking!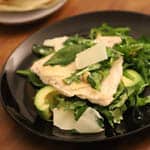 Coconut Cashew Chicken Salad
This recipe makes a Coconut Cashew Chicken Salad with Rucola & Baby Spinach, Cherry tomatoes and Avocado, a Coconut oil/Cashew nut dressing topped with fried Chicken fillet & thin slices of fresh Pecorino Cheese.
Ingredients
Salad
75

grams

Rucola salad

75

grams

Baby Spinach

1

piece

Hass Avocado

10

pieces

Cherry tomatoes
Dressing
4

tbsp

Coconut oil

30

grams

Cashew nuts unsalted

4

dashes

Pomegrenade vinegar

Optional

2

tsp

Brown sugar
Meat
450

grams

Chicken breast escalope

2

tbsp

Peanut oil
Instructions
Put the stove on maximum heat. Pour the coconut oil into a frying pan and put the pan on the stove. Lower the heat when the oil starts popping or gets very liquid.

Add the Cashew nuts and roast them in the hot oil for 5 minutes. Add salt, pepper, and the sugar. Stir it well. Turn down the heat on lowest level and keep the oil warm. Don't let the coconut oil solidify.

Heat up the peanut oil or any high quality butter of your choice in another frying pan. As soon as the oil is hot, add the Chicken breast fillets. Turn down and keep the heat on medium level. Add some salt and pepper.

Don't let the Chicken breast overcook. Keep turning it upside down until both sides are cooked. Don't worry about the layers inside. Take the pan of the heat and leave the fillets inside the pan. The hot pan will do the rest without overcooking them and at the same time keep the fillets warm until you serve them on the plate.

If the Rucola and the Spinach were not prewashed (see packaging), wash them and put them in a large bowl. Add the warm coconut oil with the cashew nuts and mix well until the all leaves are greasy. Optional: Add some Pomegrenade vinegar (or a similar sweet/smooth Vinegar), but keep in mind: Just a few dashes, not more!

Cut the Avocado into 8 to 10 pieces and the cherry tomatos into 2 pieces each. Put half of them on a plate.

Put each half of the salad on the plate.

Take each fillet and put one on each plate directly as a topping on the salad.

Use a grater to cut the Pecorino into thin slices. Garnish both plates with it.

Serve with bread.
Recipe Notes
Make sure to take out the salad, the tomatoes and the Avocado out of the fridge at least 30 minutes before serving.
Don't cut the Avocado 10 minutes before serving to avoid it getting brown spots
Try to get two equally big Chicken breast fillets with approximately the same thickness, so they take the same time to fry.
Optional: Add some Pomegrenade vinegar (or a similar sweet/smooth Vinegar), but keep in mind: Just a few dashes, not more!
---
---