Authentic Thai Green Curry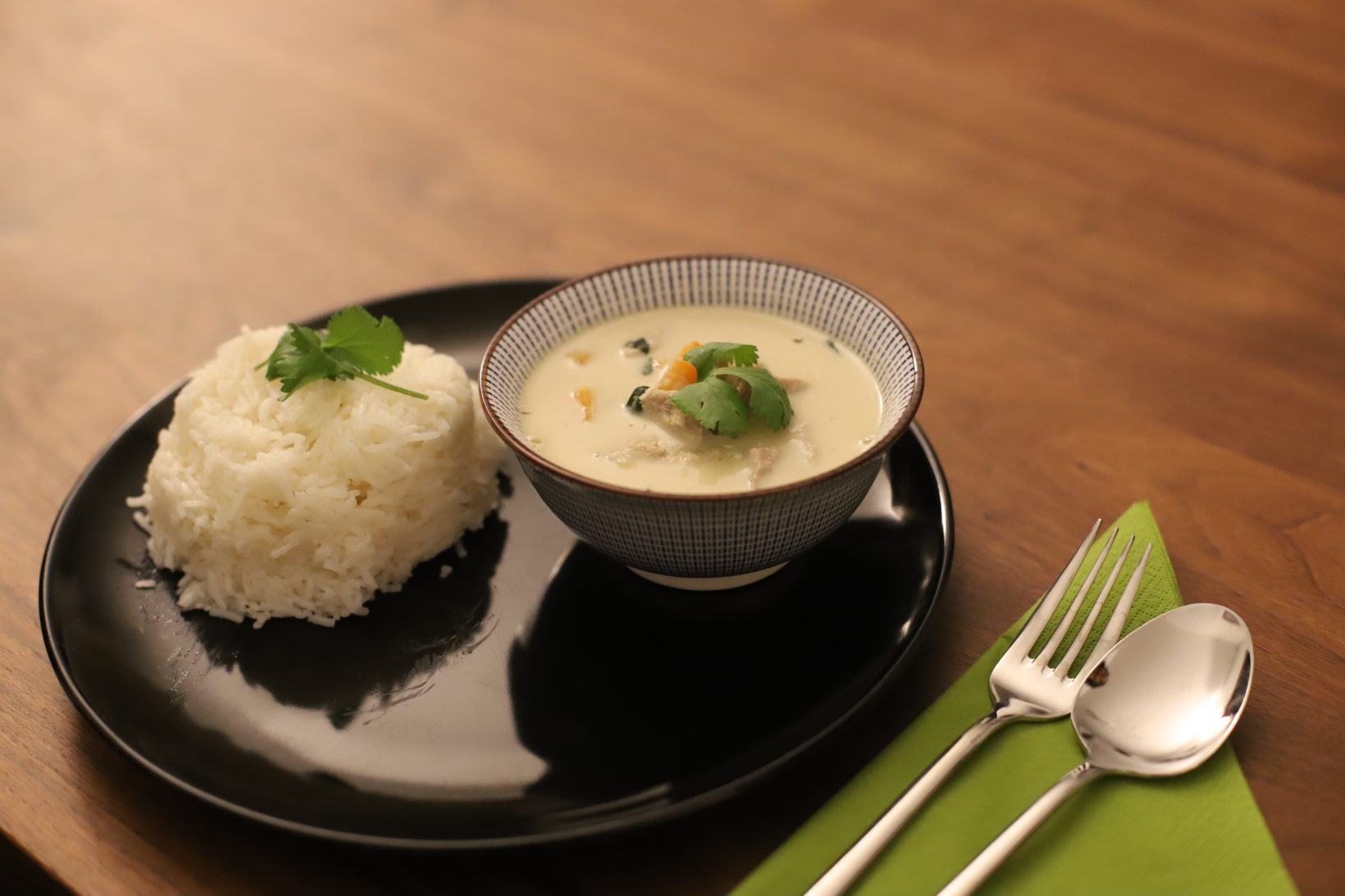 We were already very much into Thai food, long before our first visit to Thailand, thanks to a rather obscure and – at first glance – less inviting Thai restaurant named Top Thai on Vienna's so-called Gürtel*. When you are so lucky to be living in Vienna, you know better than go looking for any tempting food in that part of the city due to a healthy-minded assumption, that there are none, except for small and cheap street food etablissements with the only purpose of satisfying your Rauschhunger, drunk munchies after long and boozy night at the nearby bars and clubs – ruthlessly overrunning your self-imposed standards regarding your own culinary habits. I am no exception and stand guilty.
Nonetheless, Top Thai was one of the few exceptions – if not THE exception, when it comes to stumbling over a restaurant, you weren't expecting to dine in and leaving with a feeling as if you went on a trip through a Thai interpretation of a culinary paradise. The highlight was the choice of Thai Curries or to make it short: The holy green one, master of its kind, unreachable in its taste and loved most by anyone who had the joy to eat either all Thai curries at the Top Thai – or in my own kitchen.
Unfortunately and not long after we got used to going to the Top Thai nearly every week, it closed its doors all of a sudden. Last I heard, the cook got a more prestigious job somewhere else – we never got to know where – but who knows whether this is true or what the real reason was. Either way, we were devastated and facing a long drought of no Thai cuisine at all. Therefore we kept trying to reverse engineer different recipes unsuccessfully. We missed out on certain details in our different approaches and we never managed to reach this level of art.  At least not until our trip to Thailand in 2014.
Luckily our travels together mostly happen around Nawal's birthday, therefore I decided to book us a cooking class during our stay in Bangkok for her birthday. When you are in Bangkok, whatever you do, book yourself a class with Cooking with Poo – it will change your life – it surely did for me and I had the chance to get a grip on cooking Thai food, especially Curries. We still miss the Top Thai, but our sorrow was met with healing solace thanks to our Thailand trip and provided us with a good basic knowledge to build on for preparing Thai food.
Try it out, this recipe is my own interpretation, following simple guidelines to cook a good Thai Green Curry.
Hope you enjoy it. Happy cooking!
* It's German and means 'belt', a long street stretching from Vienna's northern "inner city" end south of the Danube to the main train station Hauptbahnhof in the south. The Gürtel encloses the inner districts to the West and borders the large southern districts to the south. The Gürtel is known for a number of landmarks on its path like the Vienna General Hospital, the Volksoper, the city's main library, the main event hall as well as many bars & clubs, but also – and probably less proudly written- a vast number of brothels and unsightly old neglected buildings and street corners, which surely should be in city hall's focus on improving the inner cities' rural parts in the coming decade.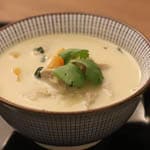 Thai Green Curry
This recipe makes an authentic Thai Green Curry. It can be combined with Chicken (Breast/Leg) or Beef/Veal (escalope). Use a large Wok or a large frying pan - preferably the Wok. Either way, they should have a coating, be it Teflon or Ceramics. I personally have a Wok with a Ceramics coating.
Ingredients
500

ml

Coconut milk

(Brand: Chaokoh, 70% coconut extract)

150

g

Basmati Rice

(use Persian or Indian Quality rice)

300

grams

Chicken Breast/Leg OR Beef/Veal Escalaope

(cut into small pieces)

1

tbsp

Lemongrass

chopped

1

tbsp

Galangal

chopped

1

tbsp

Kaffir lime rind

chopped

1

pcs

Red Onion

chopped

3

cloves

garlic

chopped

5

pcs

Green chili

6

pcs

Kaffir Lime leaves

2

tbsp

Brown Sugar

2

tbsp

Fish sauce

(Brand: Squid)

250

ml

Fresh drinking water

50

g

Fresh Thai Basil Leaves, roughly cut

(optional: throw in whole leaves)

50

g

Fresh Cilantro

(cut)

250

g

Sweet potato
Instructions
Put the rice into a small bowl and fill it with water. Set aside.

Cut the meat into small slices. Set aside.

Cut the lemongrass, kaffir rind (if not available, substitute with additional tablespoon of lime leaves) , galangal, red onion garlic and the green chilis (if not avaialble, substitue with red chilis) into small pieces.

Put everything into a mortar and grind it until you have a paste. Alternatively use a blender.

Preheat the stove. Put the rice into a small cooking pot with 250 ml of water. As soon as the water boiles, decrease the heat, cover the pot. Check the rice every couple of minutes until it's tender. Add some more water if needed.

Preheat the stove. Use a Wok and pour in half of the coconut milk.

As soon as the coconut milk starts to boil, add half of the curry paste and stir it for a couple of minutes. As soon as it reaches a certain heat, consistency and gets a distinct greenish color, add the sugar, the lime leaves and the fish sauce. Keep stirring.

Add the meat and keep stirring for another couple of minutes. Add the sweet potatoes and the rest of the coconut milk as well as the water.

Try the curry to see if it has reached a certain taste. Add some more fish sauce, sugar or curry paste to adjust and strengthen the taste.

As soon as the curry starts to smell and taste more intensively and the sauce gets thicker, add the Thai basil leaves. Stir it for another couple of minutes.

Serve the Thai curry with the rice. Optionally garnish with Coriander
Recipe Notes
The Thai basil is, next to the lime leaves, the main ingredient and carrier of taste.
Many recipes will tell you to add the meat not at the end but with the lime leaves and the other ingredients. I recommend to do it rather at the end. The meat will still be cooked thoroughly, but not dry out, which can easily happen with Chicken meat. If you use Beef, feel free to add it in the beginning.
If you are not in the mood to prepare the paste yourself, feel free to use green curry paste from your trusted Asian/Thai grocery store. The best one is Cock Thai Green Curry paste and should be available.
Feel free to use a blender to prepare the paste. The mortar is fun, but it takes a while and is a lot of work for beginners.
---
---